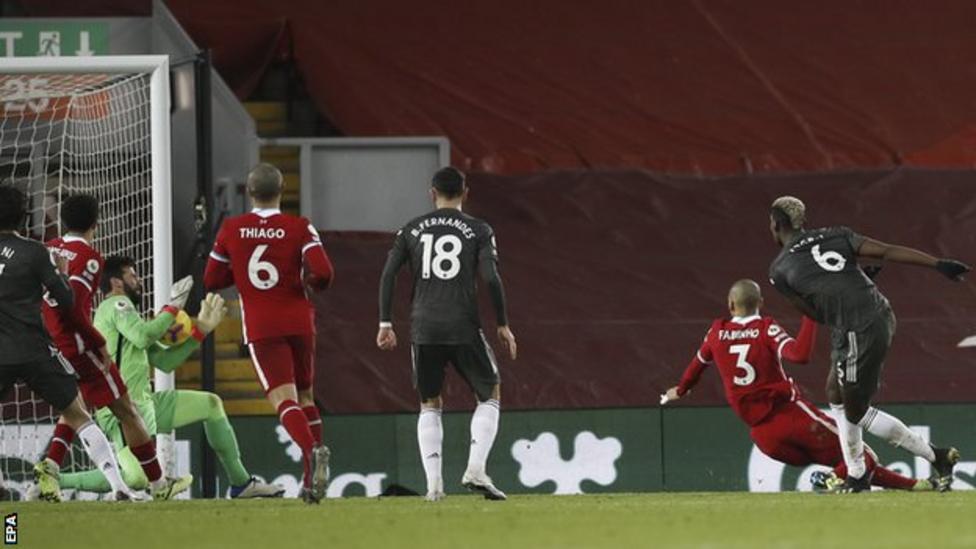 Manchester United "missed an opportunity" to beat Liverpool, said boss Ole Gunnar Solskjaer after his side stayed top of the Premier League with a goalless draw against the champions.
It was a game that failed to justify the pre-match anticipation and Solskjaer will know his side had the better chances to claim a statement victory at Anfield.
Liverpool, without a recognised centre-back and with midfielders Jordan Henderson and Fabinho in defence, dominated possession in the first half but it was United who came closest when Bruno Fernandes' 20-yard free-kick curled inches wide.
Fernandes was then thwarted after the break by the outstretched leg of Liverpool keeper Alisson before Thiago's long-range effort finally brought the previously unemployed David de Gea into action.
Alisson was Liverpool's hero late on when he blocked Paul Pogba's drive from point-blank range.
"It was an opportunity missed with the chances we had but then again we were playing a very good side." Solskjaer told BBC Sport. "I'm disappointed but still a point is OK if you win the next one.
"We have improved and progressed. It's not just the result we're disappointed with, it's some of the performance. I know these boys can play better."
United are now two points ahead of Manchester City, who moved up to second by beating Crystal Palace 4-0, and Leicester City in third. Liverpool, who have scored just one goal in their past four league games, have dropped to fourth, a point behind the Foxes.
"I think the performance was good enough to win it but to win a game you have to score goals and we didn't do that, so that's why we had that result," said Klopp.
"We try and score and we try not to not score. We obviously have to ignore the fact and hope it will be good again."
Liverpool and Klopp frustrated again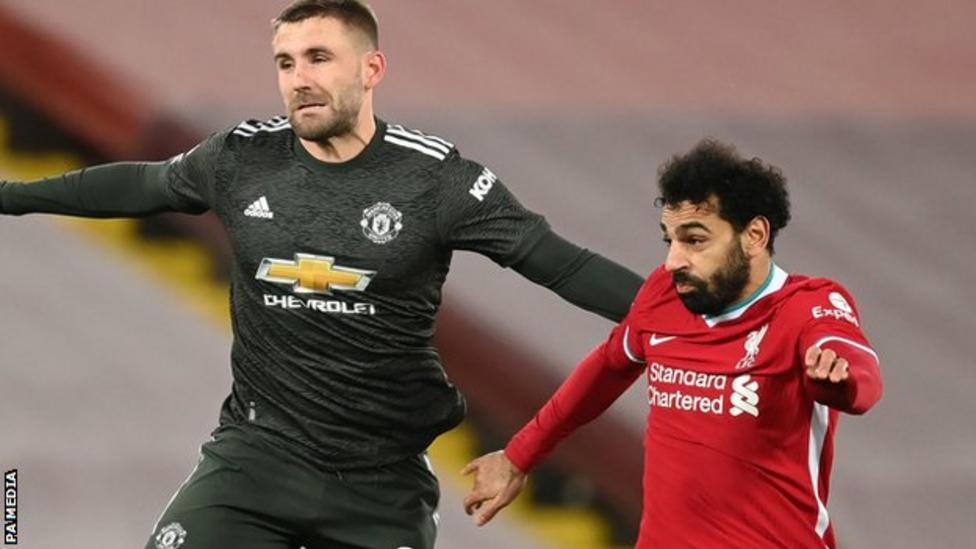 Liverpool manager Klopp cut a frustrated figure pretty much from the first whistle, his voice booming around Anfield with a tone of displeasure, showing unhappiness with his own players and officials.
Klopp's team, so used to steamrollering all before them in recent times, are going through a very dry spell and barely created an opening worthy of the name here against a resolute Manchester United defence.
Too often Liverpool's approach play ended with a careless pass or an aimless cross and the longer this game went on the more United looked the more likely winners.
It was perhaps inevitable Liverpool would be unable to maintain their relentless style but there will be concerns they have now gone four league games without a win since Crystal Palace were demolished 7-0 at Selhurst Park.
Before this draw, West Bromwich Albion left Anfield with a point while Liverpool also had a goalless draw at Newcastle United and lost at Southampton.
Sadio Mane and Mohamed Salah are currently feeding off scraps while Roberto Firmino's impact was so minimal that he was withdrawn near the end, even with Liverpool chasing a goal.
A team as good as Liverpool will not remain off the boil for too long but there is no doubt they are currently struggling for form and spark. The fact this is their longest barren sequence in the league since February and March 2005 tells the tale.
Manchester United may have a taken a point before this game and there will be justified satisfaction that they subdued Liverpool so completely, created the game's best chances and remain at the top of the table.
And yet there must also be disappointment that they could not cash in completely on an off-colour Liverpool, with reality dawning on them very late that they could take all three points.
Fernandes, despite being poor in general, almost unlocked Liverpool twice while Solskjaer and his backroom team threw their hands up in frustration as other good positions were wasted late on.
In the final reckoning, however, there will be few complaints at this outcome, which leaves them three points ahead of Liverpool with the visit to Anfield negotiated without mishap.
United were well organised and grew into the game after a poor opening half-hour and had real defensive heroes in captain Harry Maguire and left-back Luke Shaw, with the latter in particular outstanding.
It is a display that will give them increased confidence and belief as they lead the pack – although they might just look back and think a point could so easily have been three.