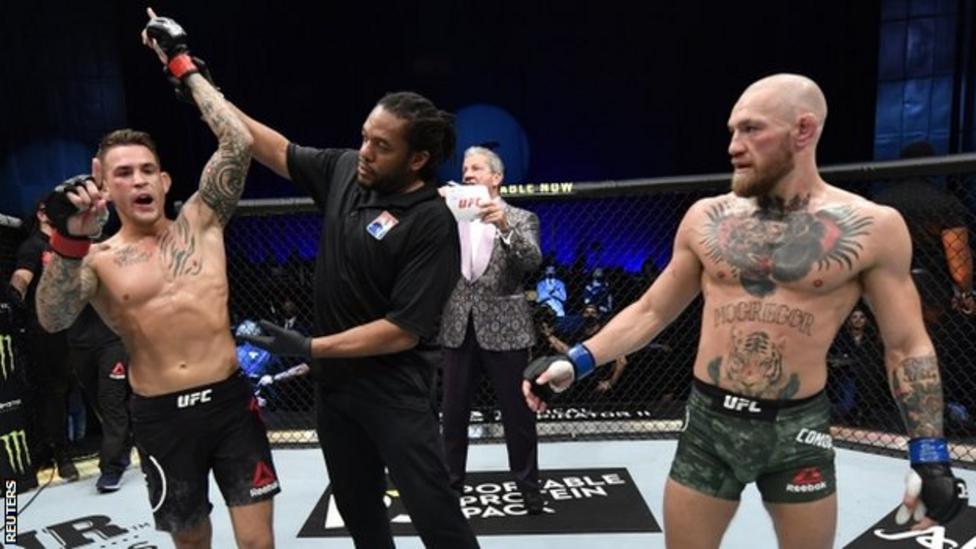 Former two-weight world champion Conor McGregor was left stunned on his return to the UFC as Dustin Poirier claimed victory in their rematch at UFC 257.
McGregor came out of retirement for a third time to face fellow 32-year-old Poirier at Abu Dhabi's Fight Island.
And although the Irishman edged the first round, Poirier unleashed a flurry of punches to seal a technical knockout two minutes 32 seconds into round two.
"I'm gutted, it's a tough one to swallow," said McGregor.
"I felt stronger than him, but his leg kicks were good. I didn't adjust. My leg was badly compromised, I've never experienced those low calf kicks, and I wasn't as comfortable as I needed to be.
"I have no excuses. It was a phenomenal performance by Dustin. I have to dust it off and come back."
McGregor feels the heat as Poirier gains revenge
Poirier admitted McGregor had won the mind games before they stepped into the octagon for their first clash – a featherweight bout in September 2014 – and the American was stopped inside 106 seconds.
That set "the Notorious" on course for global stardom. He became the UFC's first simultaneous two-weight champion before facing Floyd Mayweather in one of the richest bouts in boxing history in 2017.
Poirier had to gradually work his way back into title contention and is now the interim lightweight champion, losing just two of his 13 fights since.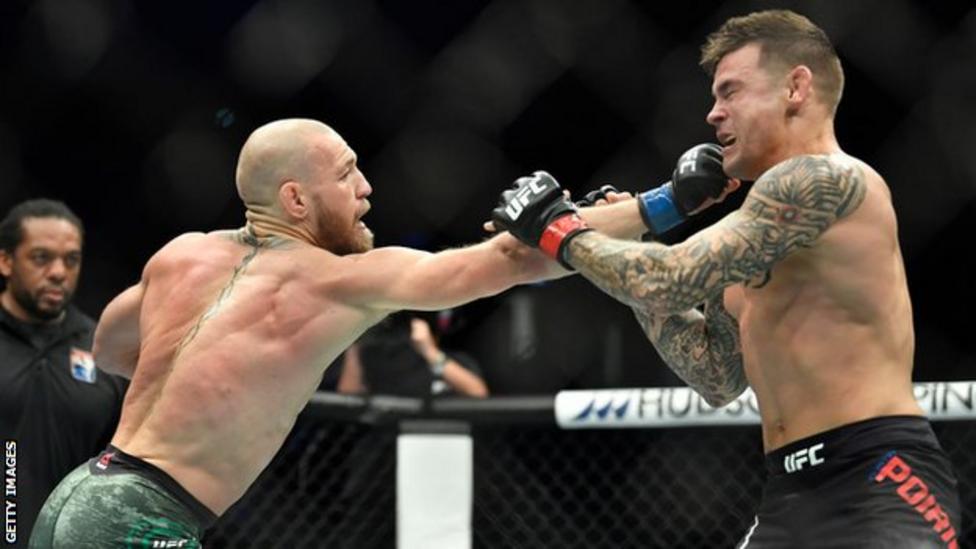 McGregor has been relatively inactive though. Since losing to Khabib Nurmagomedov in 2018, he has had just 40 seconds in the octagon – beating Donald 'Cowboy' Cerrone in style last January.
But McGregor seemed to start well in front of about 2,000 fans at the new 18,000-capacity Etihad Arena. He survived an early takedown and pinned Poirier against the fence for most of the first round, landing a few shoulder strikes like those that did so much damage against Cerrone.
McGregor said before the fight that what motivates him now is building a "highlights reel like a movie", and he tagged Poirier with a couple of right-hand shots. But, unlike their first fight, Poirier was unmoved, replying with a series of leg kicks.
Instead of swapping verbal barbs before the fight, like last time round, McGregor has pledged to donate $ 500,000 (£367,000) to Poirier's charity and at the weigh-in Poirier presented McGregor with a bottle of his own brand of Louisiana hot sauce.
And it was the American southpaw that brought the heat midway through the second round, pouncing on McGregor to take his record to 27-6.
"It was a lot of things, but it wasn't payback. That wasn't the driving force," said Poirier.
"The first time I was a deer in the headlights. This time he was just another fighter that bleeds just like me.
"The goal was to be technical, pick my shots and not brawl at all. Then I had him hurt so I went a little crazy."
What now for McGregor?
Since beating McGregor in 2018, Nurmagomedov won unification bouts against Poirier and Justin Gaethje to maintain his unbeaten record, announcing his retirement immediately after beating Gaethje in October.
Nurmagomedov's lightweight title is yet to be vacated and UFC president Dana White said this week that the Russian may consider returning for a rematch with McGregor or Poirier if he "saw something spectacular".
But speaking after UFC 257, White said: "He said to me, 'be honest with yourself, I'm so many levels above these guys. I've beaten these guys'. I don't know, but it doesn't sound very positive."
Frustrated at White's attempts to find him a fight during the global Covid-19 pandemic, McGregor retired for a third time in June, saying he was "bored of the game".
However, in September he said he would return for another big-money boxing crossover against Manny Pacquiao, with the Filipino eight-weight world champion's special assistant confirming talks had begun.
And shortly before UFC 257's main event, Pacquaio posted on social media: "Good luck tonight Conor! Let's make 2021 the best year ever for fight fans."
Analysis
Danny Roberts, British UFC welterweight fighter, on BBC Radio 5 Live
"Conor McGregor's not an old dog, he's definitely ready to keep going.
"Going around doing other things is not what Conor needs. He's young, fit and still ready to go. He'll 100% be back."