Prolific travel writer, journalist, soldier and novelist Jan Morris has died aged 94.
Morris wrote more than 40 books including a notable trilogy about Britain's empire, Pax Britannica, during the 1960s and 70s.
In 1972, she transitioned from male to female, undergoing gender reassignment surgery and changing her name to Jan.
Her son Twm announced her death, saying she was on her "greatest journey".
"This morning at 11.40 at Ysbyty Bryn Beryl, on the Llyn, the author and traveller Jan Morris began her greatest journey. She leaves behind on the shore her life-long partner, Elizabeth," he said.
Elizabeth was Morris's wife before Morris transitioned – they had five children together and stayed together, later entering a civil partnership. One of their children died in infancy.
Morris told Michael Palin in 2016: "I've enjoyed my life very much, and I admire it. I think it has been a very good and interesting life and I've made a whole of it, quite deliberately.
"I've done all of my books to make one big, long autobiography. My life has been one whole self-centred exercise in self-satisfaction!"
She is arguably most famous for her widely admired travel writing, and Palin said: "She's kind of a non-fiction novelist. She creates an image and a feeling of a place that stays in your mind."
Author Kate Mosse, whose books include Labyrinth, paid tribute to an "extraordinary woman". Fellow writer Sathnam Sanghera tweeted: "What a life, and what a writer."
Journalist Katherine O'Donnell added her "public visibility and account of her transition… let others like me know they were not alone".
Jan Morris's journalism and travel writing was superb. Her guide to Venice is a joy that will never be bettered. A pioneering trans woman, her public visibility and account of her transition, Conundrum, let others like me know they were not alone. A great life is over. RIP Jan x

— Katherine O'Donnell (@kathy__odonnell) November 20, 2020
Labour MP for Cardiff North Anna McMorrin added that Morris was "an incredible writer, pioneer and historian".
Palin said it was "one of the most influential books of my life".
"Her description of the city transcended any conventional travel writing I've come across. Morris's heart and soul was in the book. It was like a love affair," he said.
"Her book started my own love affair with the city, which has lasted all my life. And as a writer she taught me the importance of curiosity and observation."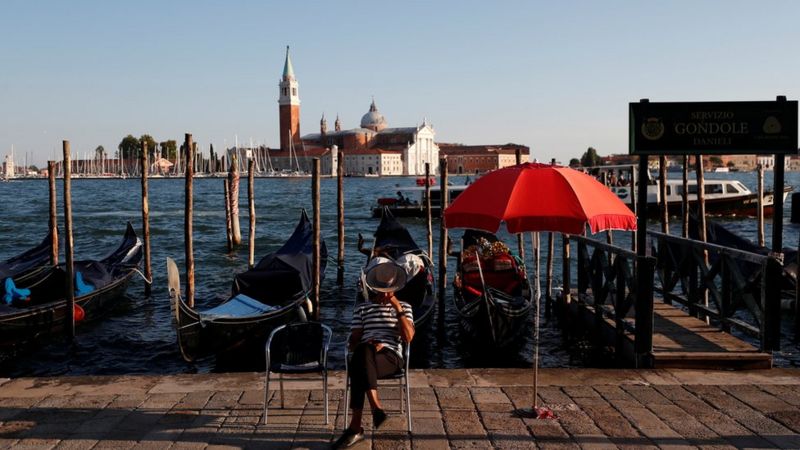 Morris was particularly renowned as a journalist for announcing the ascent of Everest, in an exclusive scoop for The Times in 1953.
'Powerful and beautifully written'
She accompanied Edmund Hillary as far as the base camp on the mountain, to witness the historic attempt on the summit.
The news was announced on the same day as the Queen Elizabeth's coronation. Later, in 1999, she accepted a CBE from the Queen, but said it was out of politeness.
Morris wrote about her transition in her 1974 book Conundrum, which was hugely successful.
She wrote in the book about having surgery in a clinic in Casablanca. The Guardian described it as a "powerful and beautifully written document".
The writer told the Financial Times in 2018 she did not think her gender reassignment had changed her her writing, saying: "Not in the slightest. It changed me far less than I thought it had."
She added that she did not think she would have achieved more as a man.
When not abroad, her home was in Gwynedd in Wales, where she held staunchly nationalist views and was honoured by the Eisteddfod for her contribution to Welsh life.